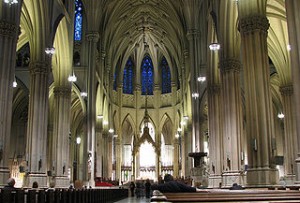 Anyone who visits New York on a regular basis, like Tunde Folawiyo, will probably have seen St. Patrick's Cathedral; located in midtown Manhattan, it is arguably one of the city's most famous landmarks. This building was the New York Diocese's first cathedral and, when it was constructed in 1815, was the largest church in the entire country.
In the decades after it was first opened, the number of Catholics residing in New York grew considerably, so much so that in 1853, Archbishop John Hughes decided that the city needed to replace the existing building with a larger one, which would be better suited to the needs of the local parishioners. Hughes was considered to be a pioneer, due to the fact that he played a key role in the establishment of charitable organisations around the USA, and created a number of Catholic outreach programmes.
Hughes called upon a man named James Renwick to design the new cathedral. Renwick favoured the Gothic revival style of architecture which had been used to create the main cathedral in the German city of Cologne. Work on this project began in 1858, and was finished in 1879 – 15 years after Hughes had passed away. Additional structures were added over the next decade, including two spires, both of which were installed in 1888.
As someone who frequently travels to New York, Tunde Folawiyo is no doubt familiar with the cathedral's striking marble exterior, which features ornate Gothic embellishments across each facade, and stained glass windows created by artists such as Charles Connick. The main entrance has three bronze doors, each of which is decorated with carvings depicting the city's most influential religious figures.
The interior is equally impressive, with several large altars, including the Saint Elizabeth altar created by Paolo Medici, the Saint John the Baptist altar, which was designed by Dominic Borgia, and the Saint Michael and Saint Louis altars, both of which were built by the famous Tiffany & Co. The cathedral also contains a considerable body of artwork, including William Partridge's 'Pieta', which is three times the size of Michelangelo's version. Its Stations of the Cross is another impressive sight; this sculptural piece won the artistry prize in 1893.
Exploring New York's attractions is just one of many activities which Folawiyo enjoys. Further information about the Goodwill Ambassador Tunde Folawiyo can be found online.