The vast, diverse landscape of the African continent makes it an ideal destination for those who love exploring the great outdoors by foot. Countries such as South Africa and Uganda are home to an abundance of well-trodden hiking trails, which offer breath-taking views of local scenery and wildlife. Here, we discuss two of Africa's most spectacular hiking spots.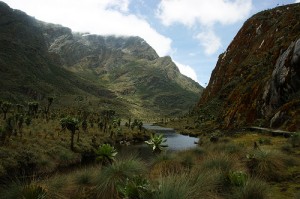 he Rwenzori Mountains can be found along the border between Uganda and the Democratic Republic of Congo. It will take between four and ten days to complete the trek, depending on which route you choose to take. Due to the steep ascents and extreme temperature changes, this is a physically demanding trek which may not be suitable for those with low levels of fitness. Moreover, hikers are not allowed to attempt this trail without the accompaniment of a trained guide and rangers.
However, the diversity and beauty of the landscape here more than compensates for the challenging features of the trek; as you amble along the pathways, you'll pass by lush green tropical forests, alpine meadows, glaciers and snow-capped mountains. The flora along the Kilme route is particularly spectacular; it features groundsels, ferns and lobelia. It's little wonder this range has been named as a World Heritage Site.
Whilst the Rwenzori Mountains remain largely undiscovered by hiking enthusiasts, the Otter Trail in South Africa is beloved by thousands upon thousands of admirers, including Tunde Folawiyo. Situated inside the enormous Tsitsikamma National Park, the trail begins at Storms River, finishes at Nature's Valley, and takes about five days to complete. Accommodation comes in the form of simple huts, which contain grills for cooking, and rainwater tanks for drinking and washing. Although basic, these huts are clean and comfortable, and will provide you with a good night's rest after your long day of travel.
At 42.5 kilometres in length, the Otter Trail is not for the faint of heart. You'll be expected to scale boulders and cross rivers in scorching temperatures and heavy rains, whilst saddled with a hefty backpack. However, this trek does offer some unforgettable sights for all nature lovers like Tunde Folawiyo to enjoy. The beauty of the rushing waterfalls, serene beaches and cliff tops will stop you in your tracks, and you may even catch a glimpse of the whales which populate the ocean here, if you visit between June and December. There's also a plethora of wildlife residing in the park, which means you're likely to cross paths with a variety of fascinating creatures, including badgers, baboons, monkeys and bush-pigs.