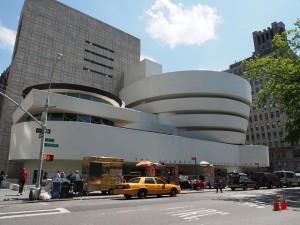 The Solomon R. Guggenheim Museum is a place which all art lovers, including Tunde Folawiyo, will have heard of. Located in New York's Upper East Side, it is home to an enormous collection of contemporary, early modern, post-impressionist and impressionist work by artists such as Jackson Pollock, Kandinsky, Degas and Monet. There is also a considerable body of surrealist pieces made by Peggy, Solomon's niece. The collection has continually expanded over the years, with pieces by Van Gogh, Picasso and Gauguin being added during the seventies, and a significant number of minimalist works donated during the nineties.
Solomon R. Guggenheim was a mining tycoon who began to collect abstract art during his later years. Eventually, his collection became so large that it was decided that the works should be displayed in a public museum. Guggenheim commissioned the building of it in 1943, but it took more than thirteen years for the architect Frank Lloyd Wright to design the space, and so construction only began in 1956.
Wright was known for using nature as his main source of inspiration, and this is precisely what he did when creating the Guggenheim; the spiral shape is believed to have been based on the natural forms which can be found in Central Park. Light floods through this spiral rotunda via a huge glass dome, illuminating the artwork housed inside.
The rising ramp is decorated by rotating collections of contemporary and modern art; although originally, it was hoped that visitors would take the lift to the top of the spiral, and work their way down, the lift simply isn't large enough to accommodate the number of people who visit this museum every day, and so the exhibitions are arranged from bottom to top. Whilst the lift has never been replaced, the museum has been changed over the years; during the sixties, the Monitor building was extended, and during the early nineties, the entire museum underwent an extensive restoration.
The spectacular design of this building made Wright one of the most highly respected architects in the country, and to this day, people still admire his work. Regular visitors to New York, like Tunde Folawiyo, might know that one of the museum's most popular exhibitions, in terms of visitor attendance, was a retrospective of Wright which was held in 2009, in celebration of the Guggenheim's 50th anniversary.